Dog Care
Care of the dogs was covered in preceding topics of MNR, however, some generalities will be touched on. It is very important to establish a relationship with a good veterinarian. When I lived in Ohio, I eventually ended up with two excellent vets. It was hard to leave them seven years ago when I moved to Maryland, but it was even more difficult to find replacements. After about three years of trying and not being satisfied with vets, we finally found an excellent clinic. Our vets are a married couple, Randy Barbour and Michelle McKenna who both graduated from Virginia Tech Vet school. Their clinic is right next door to their home, which is an important feature when you need emergency help. They understand breeders and the trials & tribulations of working with purebreeds. They are up to date on some of the leading edge news and facts. Michelle's mother shows Gordon Setters and so she was raised with the environment. We are thankful for having found them and our relationship is one of trust.
Prevention is important using a good dog food along with a vitamin and herb supplement that is tailored to your dog lifestyle and needs. (These topics were covered in previous articles.) Be careful with the overuse of drugs. They should be used only with consultation with your vet. The use of cortisone for common ailments such as skin allergies is becoming more and more common. Avoid them if possible because they suppress the immune system. There are other avenues. Try using more natural, slower working methods, most of which are preventative.
If your dog does develop a life-threatening problem where massive surgery is suggested, you must weigh that along with the chances of a quality life. Sometimes vets are overly optimistic or they don't explain the best and worse case. Life at any cost and heroics are not the answer. Choices made in these situations sometimes result in your kees having a (much) less than ideal quality of life. Many an owner has had to make the fateful decision of euthanasia after one or two such surgeries and much pain for the pet, not to mention the strain on the family and pocket book. If you have a vet you can trust who will level with you, the decisions will be easier and better for everyone involved.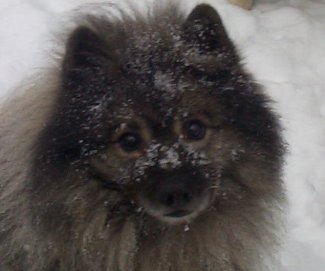 If the choice is to euthanize, the best thing you can do is to be there when it happens, to say goodbye to your pet who loved you and trusted you to act in his best interest.
Unless your dog has an illness that requires intensive care you cannot give at home, it is best to treat your dog at home. This is assuming you have a crate, because most illnesses require rest and quiet. This can only be achieved successfully with the use of a crate. There have been times in the past that I thought I could not do things like giving shots, but I learned to because my dog needed such care to live. When your pet needs it, you will forget about your queasy stomach, about your quirks and you will do what is necessary. That is just the way it is. If you have found a good veterinarian, you will be able to work with them on a schedule that will have your dog on the road to a quick recovery.
Many liver and kidney failure cases are due to the toxic effects of food and the environment. You can help alleviate some of this through a good health program that includes Vitamin C. Diseases of the heart and circulatory system can also be kept to a minimum with the same and the use of garlic and proper exercise. Keeping your dog in good physical shape is important for long life.
Click here to return to topics list.


Nutrition


Nutrition and feeding were covered in previous articles, geared towards each type of dog. To review in general terms, important points are to keep your dog on a schedule of feeding. For an average dog in good health, one meal a day is best for the optimum utilization of food. The meal should be given at approximately the same time each day. What is not eaten in thirty minutes should be taken away until the next day.

A good quality meat based food with natural preservatives is best. Recipes for dog stew, cupcakes and crunchies were contained in previous articles as well as book suggestions for more recipes. The best scenario is to cook for your dog, but most people don't have the time to do this if they have multiple pets and work. What I use is Natural Life Condition formula mixed with at least one other good quality food (rotated) such as Natures Recipe. I don't use lamb based foods. I cook and then freeze A*starz Dog Stew and cupcakes to keep on hand during the month. These are added to the dry food and vitamin & herbal supplements. Puppies are raised on mostly homemade foods and Precise Puppy formula. Older puppies and special care dogs get 1/2 their meals as Chipper's Favorite Cupcakes (recipes in JabberwocKEES magazine). [Recipes are also in the section.]

For those of you who are vegetarians, do not expect your dog to do well on a vegetarian diet for any length of time. Dogs are carnivores and require meat in their diet. They cannot be healthy and happy on such a diet.

Keeshonds should be allowed to each grass when they want and some will even eat dirt. This is ok as they are attempting to add minerals and greens to their diet. Some will eat sticks but not all the ones they chew have medicinal value.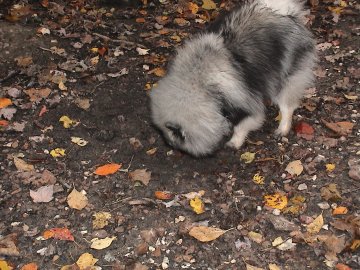 Click here to return to topics list.


The Future


The idea behind "Modern Natural Rearing" is to be able to produce healthier, solid (mind & body) kees over time. It will not be in our lifetime ... it will take generations. I am not doing all I could do as it takes time to get on a program, but I am doing what I can within the limits of my lifestyle. If we, as concerned futuristic-Kees folks, do what we can, the future of our breed will be more assured. Are you short term or long term?

Are you part of the future or a contributor to the demise of the breed? If we don't get a group of serious folks to participate, our breed will suffer. I have been seeking out folks with similar concerns who want to make a difference. There will come a day when serious kees folk will only breed and obtain dogs from others who have a holistic approach. It is already starting to happen. I am excited about the future of our breed in that respect.
Click here to return to topics list.


Invitation


Residing in the Washington D.C. area, we have been fortunate to have kees-fancier visitors stop by. We have entertained friends from different parts of the country and world. We invite any of our kees friends who are traveling far from home to visit us. Click here to return to topics list.

To contact us, or send feedback, mail to: Click Here!

Visit the A*starz Kees Home Page




This page is maintained by Donna Stekli, last updated 10/28/2002

Copyright 1995-2003 A*starz Productions. All Rights Reserved.