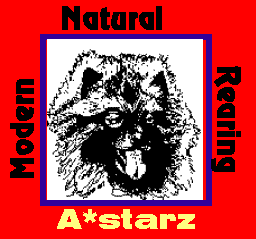 Modern Natural Rearing


by A*starz

This page is maintained by Donna Stekli, last updated 06/09/2004




Image: "Escort" Ch. BOSS A*starz Dare To Dream, 2004 KCA Select Award Winner
A fourth generation MNR Keeshond, owned & raised by the author.
Pictured at 10months of age when she finished her CH, breeder/owner handled.
Natural Rearing, in my definition, is the raising and keeping of dogs with regard to the whole dog, including a diet free from chemicals and a life that allows them to become all they can be with proper attention to their mental and physical states. Modern Natural Rearing is the natural raising of dogs, as stated above, within the practical confines of the modern world. I will refer to Modern Natural Rearing throughout as "MNR".
The articles include tips for rearing, vaccinations schedules, vitamin & herbs to use, suggested foods & recipes. It is all geared towards Keeshonden, however can be beneficial for all or mixed breeds. We hope you enjoy and that your dog will benefit from it!
We would love to have your feedback, so please, e-mail below.

In looking at MNR, I will explain the program for several different ages and conditions of dogs, as follows:

Each topic is updated independently, so please go to it for updated info.

To contact us, send feedback or ask a question about MNR, mail to: Click Here!

Visit the A*starz Kees Home Page
This page is maintained by Donna Stekli, last updated 06/09/2004
Copyright 1995-2004 A*starz Productions. All Rights Reserved.